Overview

Each year the Council must prepare a budget and as part of the process we are asking residents and businesses to tell us their priority areas for the year ahead.
The last couple of years have been exceptional. The direct impacts of the pandemic, and the economic trauma it has caused, has led to significant additional costs and seen large reductions in income across a range of areas - such as parking revenue, planning applications, council tax and business rates, and rental from property we own.
At the same time we are taking on additional costs in providing new and further support to our most vulnerable children and adults and to help the recovery of the local economy and jobs.
Last year we had some support from government to help address these issues. However, we are still having to deal with many of these budget issues as we move through the pandemic and the economy slowly recovers.
In considering recovery from the pandemic, we will look to focus on the priority areas outlined in our Corporate Plan:
Strengthening our communities

Improving our environment

Protecting the vulnerable

Increasing prosperity
In preparing the budget, we also need to be aware of our statutory responsibilities: the services that we must continue to fund, such as Adult Social Care and Children's Social Care. We also need to consider those more limited areas of discretionary spend that improve the quality of life for all Buckinghamshire residents.
We are committed to making substantial savings and efficiencies next year and beyond, and prioritising those which do not reduce the levels of support and service we are able to offer. We will also continue to press government for fairer funding for the Council and the ability for us to more freely use some specific grants.
But there are many uncertainties. What will the 'new normal' look like for residents and businesses? How will the government fund local councils? Will there continue to be a lower income from services such as parking and property rental? What will happen if providers of essential services, such as care homes fail? Will we continue to see sharply increased demand for mental health services? Will we see inflation as the cost of goods, services and energy increase? All these factors make preparing the budget for 2022/23 extremely challenging.
In considering your response to the budget consultation survey, do take time to reflect on the wider needs of the whole of Buckinghamshire in addition to the specific priorities for yourself, your family, your immediate community, your business, or your organisation.
Budget allocation
All councils have a legal duty to limit their spending to the income they receive each year. So, our budget must balance. The vast majority of our budget each year needs to be spent on the services we are required by law to provide, such as social care for adults and children. 
For every £100 we spend, this is how it is divided between the various services we provide: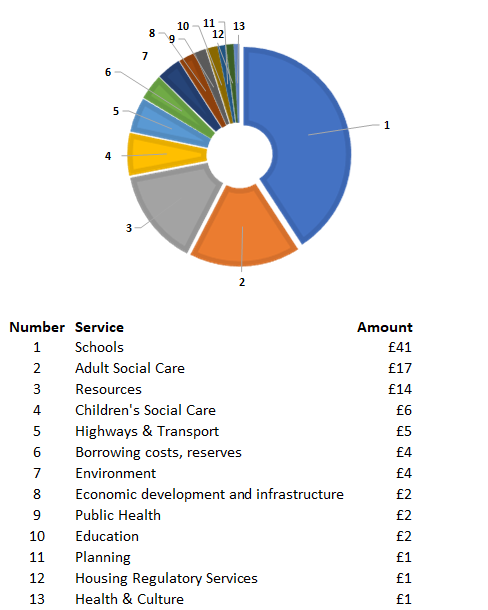 We are proposing to allocate the 2022/23 budget in a similar way, in line with our recently agreed Cabinet structure following the election of our new members.
Give us your views
Please let us know what you think by completing our short online survey below. To request a printed version of the survey, please contact us on the email address above.